I want a perfect Christmas
& nothing will go wrong this year!!!
If you see yourself in the above sentence, both in terms of the desire itself and the intensity of the desire, welcome. I think it's time to analyze how good it is for our health, in all respects, to have unrealistic Christmas expectations every year. And to get upset each time an incident, be it minor or major, ruins our plans.
Don't get me wrong, I love Christmas. It is a feast in which you're basically forced to stay at home where it's nice and warm, to eat and binge-watch series all day long. There are 3 consecutive days of "me time", but they do not come, or at least should not come with any type of guilt. I like decorations, I love snow, I love the moment when my family and I get together to decorate the tree, and don't even get me started about the presents. The only thing I don't particularly like are carols, but it's not a big tragedy. So I'm definitely not a Grinch, I'm not even indifferent.
I am, however, a very rigid person when it comes to plans. If we agree that we are doing something at 4 o'clock and something unplanned pops up, and if people (including myself) are late or postpone the meeting, at 4:15 I'm already spinning in circles and smoke comes out of my ears. Even if it's not time sensitive or urgent, I feel that the world is turning upside down when plans are not respected.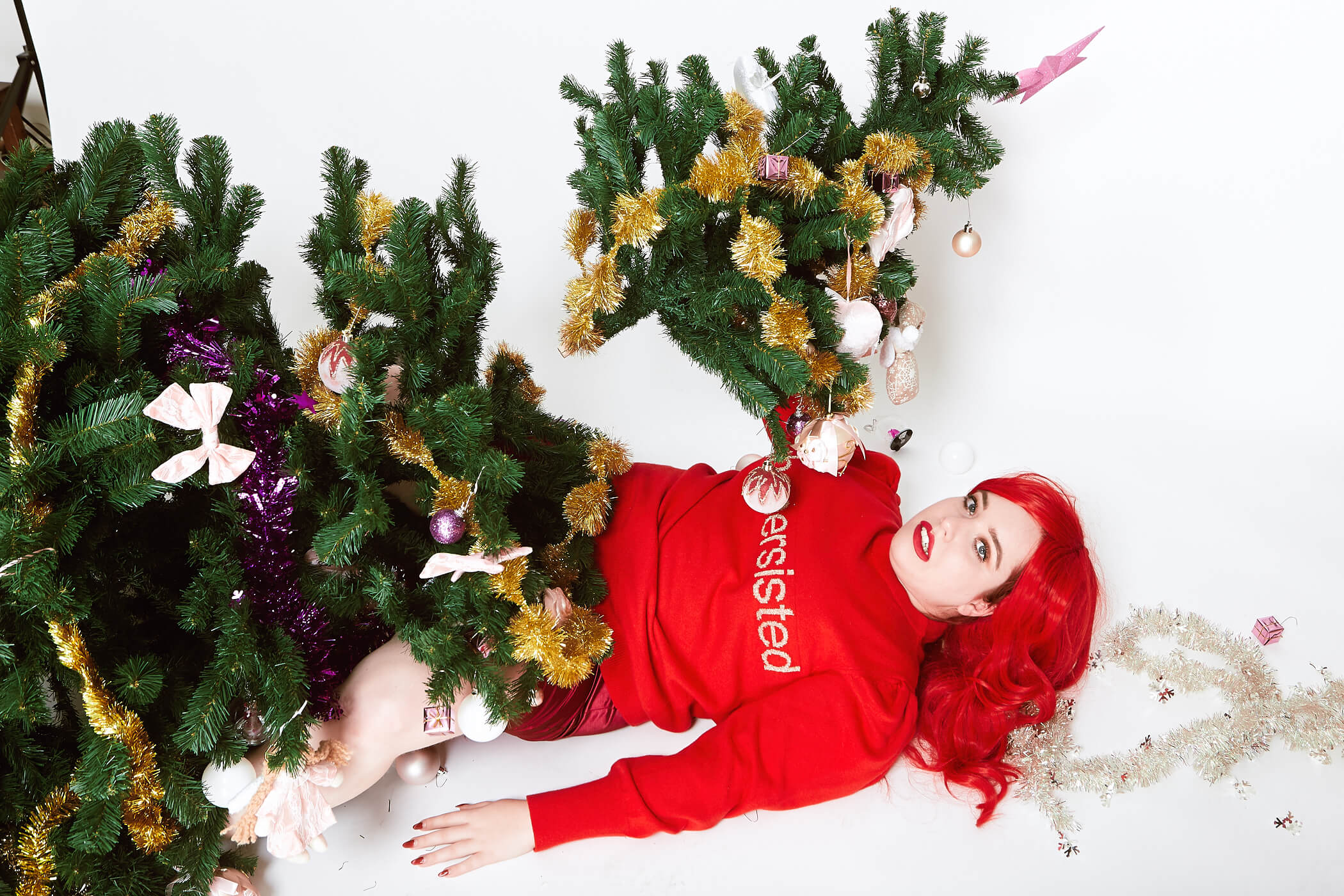 So I have all the "qualities" needed to be the kind of person described by the subtitle. Unfortunately, I'm the person from the subtitle quite often, not just during Christmas.
In addition to the clichés about what a woman should look like, another cliché that has left its mark on me was the Christmas story. All the commercials, all the movies, all the stories idolize Christmas and turn it into this magical time where wonders happen and suddenly, for three days, the world is full of peace.
The spell was broken for the first time when I found out that there is no Santa Claus (I hope from the bottom of my heart there are no children reading this article and that I'm not the one who destroys their life). I don't remember exactly how it happened, but I still remember the sadness I felt at that moment. My mother is very amused when she tells me how surprised I was and how badly the news affected me – I was mad and disappointed all throughout Christmas that year, even though I was not that young (I was in the fourth grade).
The next Christmas I remember best is the first after my parents' divorce. My mother did everything possible for it to be "story-like", but the truth is that the harder we all struggled to pretend that everything was perfect, the more we felt that emptiness in our chest. The most painful moment was when we were struggling to carve the tree so we could fit it into the stand and we could not fix it, no matter how hard we tried,  because until then, it was my father's job to do it.
Another year, while I was decorating the tree, this time at my father's, we started arguing. Of course it was something so trivial that today I don't remember the reason for the fight, but it was an ugly one that ended with me leaving my father's crying.
I spent many Christmases fighting with my parents. Another year, my mom took advantage of the fact that I was sleeping at my dad's place and she decided to "clean up" my room. I use quotations marks because that's what she called it, while I'd rather call it purging. After she gave me the news, I fled to my room and looked around. She had thrown everything she thought did not belong there. As a little explanatory note, I have the bad habit of collecting clutter, I'm a real hoarder. I fled desperately to my bookcase where, behind many books, I hid a large bag with all the brochures, bills, tickets, and everything that I had collected during my time spent in Japan. It was not there anymore. Now we laugh when we talk about her "cleaning up" and I am aware that she did it with the best of intentions, but at the time I remember being very angry and very vocal about it.
These are my most powerful memories of Christmas. I think the red thread was already obvious, right? I can only remember the unpleasant moments that had the misfortune to happen during those wondrous times. Since many times upsetting things have happened to me during Christmas time, until one or two years ago, I was firmly convinced that I was cursed and that this feast is cursed and that I will never have a Christmas like those in movies.
And here are two important things: the fact that less pleasant things happen during Christmas AS WELL and that my standards for it are borrowed from movies. The refusal to accept the first problem as a totally normal thing and the stubbornness of clinging to a fantasy creates the fatal combination that has the potential to destroy any Christmas, no matter how beautiful it actually is.
It's just as normal to argue with someone during holidays as if you were arguing on a Tuesday in June. Misunderstandings do not take a break and do not discriminate. What we can do, instead, is to decide how important we let them be. Then there is the fact that there is no Christmas like we see in movies, as there is no love like the one in movies, as well as there is no way that 2 girls, one without a stable job and one who works as a waitress, can afford to live in an 100 square meters apartment in New York.
I always wanted to have a magic Christmas and my obsession with the cliché perfection of this holiday has always made me focus on what was not perfect, instead of appreciating what was not perfect, but still quite close to it.
This year I intend to slow down on running after perfection and to enjoy my imperfect family, imperfect food, imperfect Christmas tree and myself (just as imperfect). I suggest you try doing too and see if this way we can get closer to that magic everyone's talking about.
By Patricia Luiza Blaj (The Outsiderz)