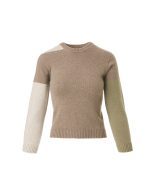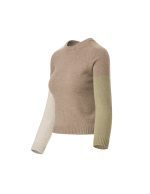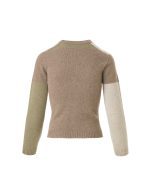 3D Multicolor Sweater for Children, Cashmere Blend
3D Sweater in three colors (without seams), from premium Italian cashmere blend.
Additional information
This autumn we start the presentation of our 3D, intelligent knitwear with an item for children.
I find this item essential in a child's wardrobe, and I am sure your children have similar items, so I will try to summarize what we consider as sustainable attributes for our product:
– intelligent knitwear in 3D, one-piece knitting with German technology = no seams, a comfortable cashmere skin even for the picky dressers
– guarantee of one of the best cashmere yarns in the world from a heritage Italian mill
– made ethically and responsibly by us in our own factory
– direct producer-to-consumer pricing
– several colors available in stock, and more can be ordered from the mill
We need to teach our children to have a healthy relationship with clothes, their purchasing and care.
They need to learn to find essence, substance, value and the elegance of (apparently) simple clothes and the benefits of natural yarns. The daughter of a sheppard was reminiscing the other day of the first time she learned wool is magic :),  when she got a cut and her mom used a bit of fresh wool to cover her wound. Fairytale like stories we lost in only 30 years or so. So much lost of our understanding, respect and proper use of nature, and so fast.
100% guarantee of premium Italian yarn, a blend of 30% cashmere and 70% lambswool, produced by an Italian heritage mill, recognized world wide for its impeccable cashmere yarns and sustainability standards.
For care, use our instructions for hand washing from our "Care Guide".
The 3D cashmere and lambswool sweater will be the piece your kids will love to wear directly onto the skin as it is a great quality sweater, very soft and comfortable, with no chemicals in its composition. It is the perfect school uniform, because it can be worn with a tank top underneath or part of an outdoor outfit.
| | | | | |
| --- | --- | --- | --- | --- |
| | 3-5 years (cm / ") | 5-7 years (cm / ") | 7-9 years (cm / ") | 9-11 years (cm / ") |
| Total Length | 42 / 16.53 | 45 / 17.71 | 47 / 18.50 | 49 / 19.29 |
| Shoulders | 21 / 8.26 | 23 / 9.05 | 25 / 9.84 | 27 / 10.62 |
| Chest | 32 / 12.59 | 34 / 13.38 | 36 / 14.17 | 38 / 14.96 |
| Sleeve Length | 45 / 17.71 | 49 / 19.29 | 51 / 20.07 | 53 / 20.86 |