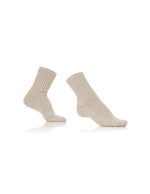 3D Socks from Extrafine Merino, Ice Latte
3D Short socks (without seams) from Italian Extrafine Merino
*additional colors available, contact us at info@amiamalia.com
Treat your feet with natural, quality yarns that will make you feel luxurious
Additional information
Inward luxury versus Outward luxury
Outward luxury – expensive polyester socks.
Guilty. I was looking for a pair of long socks to use with some of my favourite sneakers, and I bought a pair of such socks. Loved the colours, the idea of socks being a fashion object, an accessory, part of the way you express your style. I did not like the feel on my feet, especially after few hours in  my shoes.
And so I looked into finding natural yarn socks at an honest price, and long story short, we sourced cashmere and Italian extrafine merino and produced our own.
Inward luxury – treating your feet to natural, quality yarns that will make you feel luxurious, look stylish and also keep your feet comfortable, dry, warm in your shoes.
100% Italian extrafine merino from a heritage Italian spinning mill, from Prato. No mulesing, 100% traceable, durable and sustainable yarn. "Probably the best woollen wool in the world."
For care, use our instructions for hand washing from our "Care Guide".