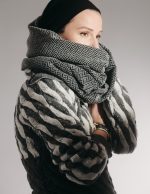 Cable Duo Sweater, Two Colors, Grey – Sale
Sweater in two colors, knitted from Italian Extrafine Merino Wool.
Additional information
Cable Duo
It is a romantic pattern, isn't it ? Two lovers, intertwined, embraces to infinite .. Or maybe is more philosophical – opponent forces and energies attracting each other, connecting, trying to pull aside, just to re-unite again. The meaning changes with every new look, and when you add color combinations the message is unique.
What you need to know about our Cable Duo products : they come as a raglan shoulder sweater, and cardigan. You ca use one color for the entire piece, two color, play with the sleeves, and also introduce segments / stripe blocks. Have a look at our proposals on our website, search for Duo , and get inspired.
We use Italian super soft merino in our standard products, and Italian premium cashmere , upon request.
100% Italian extrafine merino from a heritage Italian spinning mill, from Prato. No mulesing, 100% traceable, durable and sustainable yarn. "Probably the best woollen wool in the world."
For care, use our instructions for hand washing from our "Care Guide".
Measurements for this item:
Total length: 68 cm
Bust: 40 cm
Sleeve length: 73 cm