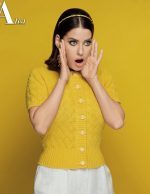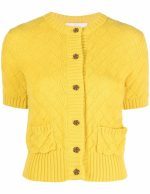 Clouded Squares Jacket, short sleeve edition, Yellow – SALE
Knitted jacket with short sleeves and custom peony buttons, more colors available.
Out of stock
Additional information
Although we would like to, summers are not only about days spent at the beach or travelling light with just a few T-shirts and a linen dress; we all feel the need for more variety of styles for the summer.
We love the chic element this garment brings to any outfit, even if it's over a slip dress, with a pair of jeans, or silk shorts, Capri trousers or the perfect summer vacation skirt.
100% Italian extrafine merino from a heritage Italian spinning mill, from Prato. No mulesing, 100% traceable, durable and sustainable yarn. "Probably the best woollen wool in the world."
For care, use our instructions for hand washing from our "Care Guide".
While our campaign is located in an ideal beach setting, all of these items pair well with a city look, especially with suit jackets.
Measurements for this item:
Total length: 52 cm
Bust: 44 cm
Shoulders: 33 cm
Sleeve length: 21 cm