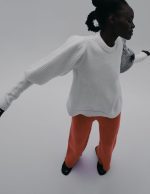 Summer Elegance Trousers, Coral Orange – Sale
Cotton knit shorts from Italian mercerized cotton.
Additional information
These cotton knit shorts are born from my observations and needs during treasured summer vacations: I wanted wrinkle-free items, ready to be worn right after travel, comfortable yet elegant, with a cooling effect but still some structure, with a silky, colorful appearance but easy care.
I am very excited to introduce you to this gorgeous Italian mercerized cotton that works so well in our shorts. The available colors are : Black, white, red, pink, orange, green, electric blue, sky blue, sea green turquoise.
100% premium cotton.
While cotton is a bit more resistant to higher water temperatures and washing than wool, it can also be washed at temperatures of 30oC – 40oC and in shorter washing cycles, or even by hand. This reduces energy consumption and ensures the clothes retain their as-new look.
Total length: 101 cm
Waist: 31 cm