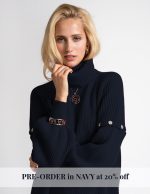 Eliza Transformer Sweater, Navy
This is pre-order price, 20% off initial launching price.
N.B. Pre-orders can be returned only for manufacturing defects.
Out of stock
Out of stock
Additional information
You have the opportunity now to order one of our best sellers in Navy, and benefit from a 20% pre-order reduction! You may choose the colours of the letters, peonies or details. Allow up to 10 days for delivery.