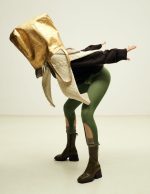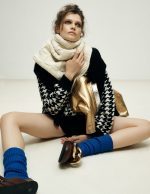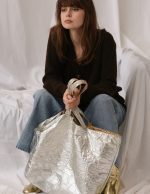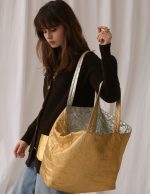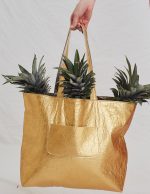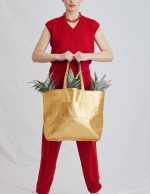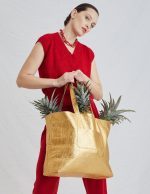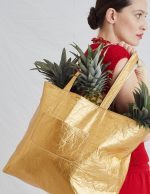 Gold and Platinum Reversible Large Tote
Reversible large tote, from gold and platinum Pinatex, woven textile from pineapple leaves, as leather alternativ.
In stock
Additional information
We are committed to natural yarns, but even more to the bigger issue of sustainability. For that, we have a multi prong approach to all things sustainable, including keeping up to date with all the research on cruelty free, socially responsible new materials, not only yarns.
Vegan leather is a term used more and more, and it has a nice sound to it, just like faux-fur, offering all the qualities of the products used for centuries, but without the guilt. But we should always look at what is this product, how is it made, all its impact and implications.
During our participation in Copenhagen Fashion Summits we have met with various researchers and producers of new materials, and is very impressive to see the thought, work, and vision that goes into this enterprises.
Our attention was drawn to Pinatex – a sustainable natural textile made from waste pineapple leaf fibre. We understood their process, appreciate their approach and the fact they have managed to get the production up and running to allow them to make their product available to everyone. We found that some researches for future fabrics and new materials have a beautiful marketing sound to it, but are not yet in production phase, or to a stage where they allow also smaller quantity acquisitions.
The next question was of course, how can we do justice to this material, and also create something our customers can use ?
We did not want to use only small details of the material, but also make it visible, and used – so we thought of a large tote. We could choose between gold and platinum, and we know many of our customers oscillate and alternate these statement polishes, so we thought of a reversible tote, both gold and platinum. Any other finishes, labels, metal details have been removed – a minimalistic design, allowing the glamour of the material take the centre.
One of our sustainable principles is development of the local community at our place of production, so for the manufacturing of it we are collaborating with a couple of talented and experienced artisans in the city where we operate.
The totes are made by hand, on order.
Sustainable natural textile made from waste pineapple. Low impact, socially responsible, cruelty free. Pinatex, by Ananas – Anam.
We have use our tester totes intensively, they make the perfect companion for travels, for city strolls, grocery shopping – and can you imagine a glorious day at the beach with the sun shinning on the gold and platinum tote?
Sizing info:
Height: 39 cm/ 15.35 inches
Width: 55 cm/ 21.65 inches
Depth: 15 cm/5.90 inches
Handle drop: 30 cm/11.81 inches