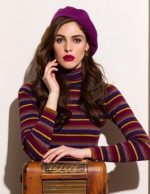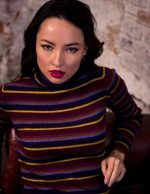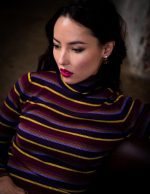 Golden Plum Turtleneck – Sale
A modern and fresh combination of fine merino and viscose based Lurex stripes.
Out of stock
Additional information
Stripes and Sparkles
Do stripes ever go out of fashion? Or just take a step back sometimes just to come back in more force? Although Dr. Helmholtz concluded in the 19th century that horizontal stripes make a rectangular look taller and narrower, the common belief and unofficial fashion rule has been that horizontal stripes would make our bodies look wider.. In recent years several studies confirmed that indeed horizontal stripes do not make our bodies look bigger, to the contrary, especially when a combination of dark stripes is chosen, the body can look thinner. In our stripes combination we have used also some darker, narrower stripes and lighter Lurex stripes for a chic effect. We designed it as a versatile item, mixing the functionality of the t-shirt cut with the elegance of luxurious yarns and the dash of glitter, making it an item easy to wear from morning to evening, from casual walk to evening event settings.
The stripes are a combination of Cashwool (extra fine merino wool spun to resemble cashmere in touch and feel) and viscose based Lurex. We recommend dry cleaning, or a careful, quick wash in tepid water with a detergent for silk & wool clothes, like Ecover Delicates.
The t-shirt cut in a luxurious blend allows this top to be worn and styled as your daily routines may need it, from simply pairing it with a pair of jeans or a skirt, to wearing it over a blouse or a dress, or wearing it under a suit jacket for a twist of glamour to the 9 to 5 attire. The tops are knitted in rib and have a good amount of stretch. They are cut for a relaxed fit for the indicated size, opt for a smaller size if you would like a tight fit.
Measurements for this item:
Total length: 59 cm
Bust: 31 cm
Shoulders: 30 cm
Sleeve length: 53 cm