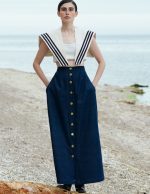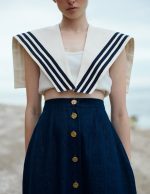 Handwoven Jeans Skirt
Skirt from handwoven jeans material, organic cotton, indigo dyed.
Additional information
This is a special summer. After months of lockdown, months of reckoning of our global fragility and vulnerability, months of re-appreciating the simple things, like a walk outside and some fresh air – we are preparing for a summer maybe different from what our generation is used to.
We are introducing in this collection, although not a knitted yarn, a jeans material with a story: hand woven from organic cotton in India, part of a project to revive the traditional weaving occupation and allow a sustainable income for the community, this material is naturally indigo dyed. We love it in the shape of a buttoned long skirt, but can be tailored also in a pair of trousers. These items are tailored made in collaboration with a designer from Oradea.
100% organic cotton, dyed by hand with indigo and handwoven by rural artisans in India.
Machine or hand wash with mild detergent for natural fibers – please read about "COTTON CARE" instructions here, or contact us for more information.
While our campaign is located in an ideal beach setting, all of these items pair well with a city look, especially with suit jackets.
Stay tuned also to see how various stylists incorporated some of these pieces in various editorials.
Please contact us at mine@amiamalia for customized measurements.