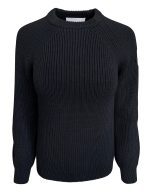 JVB Sweater, Black – Sale
Ribbed knit sweater, raglan shoulder, from Italian merino.
Additional information
This JVB Sweater has a gold peony embroidery on the right sleeve.
100% Italian extrafine merino from a heritage Italian spinning mill, from Prato. No mulesing, 100% traceable, durable and sustainable yarn. "Probably the best woollen wool in the world."
For care, use our instructions for hand washing from our "Care Guide".
Julia von Boehm is Fashion Director at InStyle magazine, a creative consultant and a celebrity stylist. Based out of New York, with a successful career spanning 20 years, Julia is a renowned force within the fashion industry.  (Have a look at Julia's bio here, is worth it ).
I met Julia online, she started the Donate with Style initiative at the beginning of the pandemic and I made a donation to one of the causes dear to her in return for a Skype session with her.
The session was supposed to be about my personal style and wardrobe, the amount donated was symbolic compared to what other consultants, with less accolades, would charge for a lot less.
Julia, though, did her homework: She knew I have my own knitwear business, had our IG page up on her phone, and when she realized my passion for my work she generously switched gears and asked if I would like more some feedback on AmiAmalia.
WOW <3
And so it followed: Constructive encouragement, advices, exchange of opinions, inspiration – in other words, empowerment and confirmation.
I was very impressed with Julia's talent – she is my definition of a talented stylist, who doesn't want to be a designer, but knows how to highlight and transform a designer's work with a sharp styling eye.
After our initial Skype session I didn't expect to actually receive a summary of our session from her team, complete with Julia's advices and recommendation. We all know it is a sign of respect to do so after a meeting, but I also know in most cases, even in very professional environments, this doesn't happen.
After the chat with Julia her influence was evident in the way I approached AmiAmalia's next campaigns, with more confidence in our products, with focus on our knitwear and on removing any distractions from the styling and pictures – and the images immediately stood out. We managed to have strong images with only knitwear used for styling.
I mention this to illustrate why I was more than thrilled when Julia mentioned that she is re-launching her online fashion magazine JVB and that she is considering collaborating with us, to create a sweater to send out to her friends and collaborators for the relaunch.
Julia continued to be her wonderful self, she quickly picked a design we had as the starting point, and gave it her styling magic – recommending we bring a cool effect to it by using a shoulder patch for a personalized embroidery.
I love this choice of sweater – is very urban, New York, and also perfect for the countryside, not overpowering the wearer, rather highlighting her/his/their style, bringing luxurious comfort in an ethically made, quality product.
To add a mysterious note and allow privacy when desired, the embroidery can be covered up with a knitted patch, in matching colors with the sleeve, or the contrasting color from the sweater body.
She allowed us to recommend a yarn with sustainability attributes in line with the overall thought and care put into this project – the final choice is an Italian yarn, sustainably produced from mulesing free New Zealand superfine merino wool.
For the color combinations Julia reviewed the large palette of available colors and chose 6 combinations which we absolutely love and we know will become wardrobe staples for our customers and community.
The JVB sweater is available for women, and men, from size XS to XL, and is also available as a cardigan.
Measurements for this sweater:
Total length: 60 cm
Bust: 43 cm
Sleeve length: 65 cm