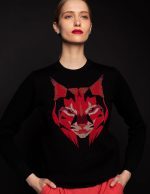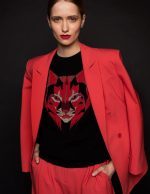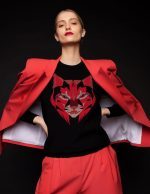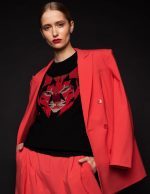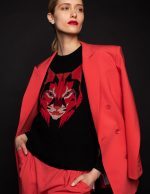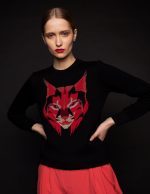 Lynx Sweater, Black and Red
A majestic Lynx. Love for art, love for fauna, love for beauty.
Out of stock
Additional information
THE LYNX
At first look, is just another feline. And I couldn't blame anyone for thinking that. But learning about the stories behind our clothes is an important element of the slow fashion movement, allowing us to see more than an image, allowing to see if there is something we have in common with the people involved in the creation and production of our clothes.
More people than ever are travelling the world and living in other places than where they were born, and is so easy to sometimes feel uprooted and have mixed feeling about what one left behind. At some level, starting this enterprise is a way of reconnecting with my native place that I left 17 years ago. I have always been proud of the beauty, the flora and fauna of the Carpathian Mountains, not in a competitive way with other beautiful places in the world, but because it represents my roots, and a part of me will always belong there.
The lynx is a fantastic, mysterious, agile creature that, while not getting the same level of attention as other felines, has become an endangered animal in many places in Europe. Again, I couldn't blame those thinking for a moment "what animals are not endangered these days", but I try to resist that hopelessness myself though actions, no matter how small. We were impressed with the efforts of the WWF – Romania in raising awareness of the challenges the lynx population is facing (attached the lynx population mapped for Europe), we are part of their "Adopt a Lynx" program, and decided to show the lynx' beauty also in our knitwear.
We strive to collaborate with the best professionals to provide our customers with beautiful knitwear they will love to wear for many, many years. We have asked Alena Lavdovskaya to create an artistic image of the lynx for us, in a modern way, to allow us the play with colors that we consider important for our creations and our customers.
With art and fashion studies in San Francisco and Milano, Alena Ladovskaya has been a well-known name in the world of creative fashion for more than 14 years, and it is the most reputable fashion illustrator in Russia. She recently made the step into entrepreneurship, establishing her independent creative studio, dedicated to highlighting the beauty and the value that artists who are passionate about fashion can create.
Alena is an ambassador of Faber – Castell and Winsor & Newton in Russia. Her sense of style and talent are acknowledged by prestigious brands and publishers, having successful collaborations with clients as Lancome, Dior, Gucci, Tiffany, Montblanc, Vogue, Harper's Bazaar, Elle, and many others.
The Lynx is knitted from Cashwool (95%) , a fine merino wool processed by a reputable Italian spinner in a special way that makes it feel like cashmere, and some Lurex (5%) details were added for effect.
Handwash following the same recommendations as for cashmere wash at our Care section.
The make up and the sunglasses being closest to the Lynx image will be essential to the look you are after. It has a strong visual effect, so we wouldn't recommend to look for items to overpower it, rather items to highlight it. It pairs great with short, midi, or maxi skirts and is a good friend of all things denim.
| | S ( cm / ") | M (cm / ") | L (cm / ") |
| --- | --- | --- | --- |
| Total Length | 62 / 24.40 | 67 / 26.36 | 70 / 27.54 |
| Bust | 46 / 18.10 | 48 / 18.89 | 50 / 19.68 |
| Shoulders | 37 / 14.56 | 38 / 14.95 | 40 / 15.74 |
| Sleeve Length | 61 / 24.01 | 62 / 24.40 | 64 / 25.19 |