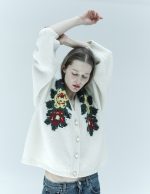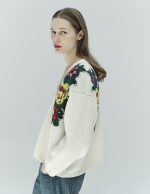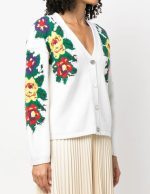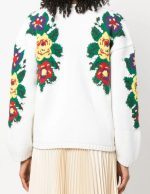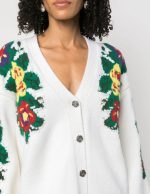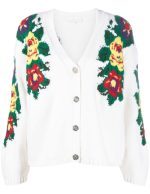 "Mara" Cardigan, Shorth Length, White – SDS
Wool merino cardigan with intarsia flower elements
*Check additional colors available here or contact us at info@amiamalia.com.
Additional information
Our knitted homage to the North Carpathian flower motifs that embrace the joy and strength of powerful colors as red, purple, yellow, green.
The sweater/cardigan is knitted eight multiplies of soft Italian merino, in a medium to heavy weight finish. Lots of comfortable warmth for the colder seasons, a transitional piece that can replace a coat as well.
It can be ordered as a sweater or cardigan.
| | XS (cm/") | S (cm/") | M (cm/") | L (cm/") |
| --- | --- | --- | --- | --- |
| Total Length |  60 / 23.62 |  62 / 24.40 |  64 / 25.19 |  66 / 25.98 |
| Bust |  54 / 21.25 |  56 / 22.04 |  58 / 22.83 |  60 / 23.62 |
| Sleeve length |  53 / 20.86 |  54 / 21.25 |  55 / 21.65 |  56 / 22.04 |
| Shoulders |  59 / 23.22 |  62 / 24.40 |  64 / 25.19 |  67 / 26.37 |