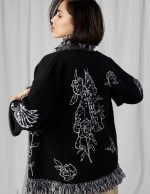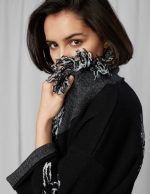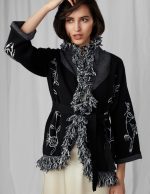 Mountain Garden, Short Coat
Short coat knitted from Italian Extrafine Merino with fringes and mountain garden images.
In stock
Additional information
A show stopper, a fashion statement and a declaration of self appreciation. A short, knitted coat is the epitome of casual -luxury style.
This one features images of a mountain garden – the lynx, mountain peonies, a bird, and a scarab.
We can assist with personalized designs. Design work is being charged separately, based on complexity.
100% Italian extrafine merino from a heritage Italian spinning mill, from Prato. No mulesing, 100% traceable, durable and sustainable yarn. "Probably the best woollen wool in the world."
For care, use our instructions for hand washing from our "Care Guide".
Although we can say is hard to overpower this piece with other items, our advise is not to try to, is a statement piece on its own, through its design and volume.
The model wears a size S.
*Measurements will be adjusted for each order. Please contact us at mine@amiamalia.com