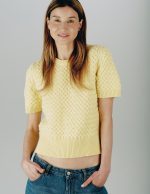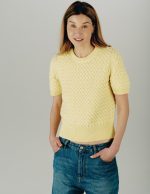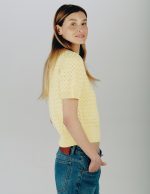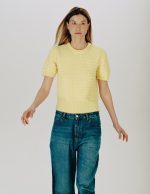 "Pillow Talk" Act II Short Sleeve, Pastel Yellow – Sale
Classic crew neck sweater in a knit intrecciato, weaving pattern
Additional information
"Pillow Talk", by AmiAmalia.
It took some weeks of wearing this pattern to capture its feel in a name, and we always came back to the first one that came to mind when trying it – Pillow Talk.
Comfort, intimacy, honesty, a clean, classic pattern –  minimalistic, yet anything but boring or plain. It is a classic stitch technique we played with until we found the combination of technical details and yarn to come as close as we can to a knitted version of the woven basket or leather intreciatto pattern that I personally find mesmerizing.
The Pillow Talk comes in several acts, as we will call the pattern sizes. Also, depending on the yarn used, it gets a different feel, look, structure: the traditional fine merino and cashmere will bloom more, making the 'pillows' more compact, while the Patagonian wool with anti-shrinkage treatment retains more of the individuality of each ply, and is more fluid as a garment. It may seem complicated, but we are here to assist you in choosing the best yarn – pattern – color combination for you.
Based on your choice, it can be made from italian fine merino, cashmere or organic Patagonian wool of 21 microns, spun in France.
The organic Patagonian wool is environmentally friendly, treated against shrinkage. It is produced as motes resistant, meaning it can be washed in the washing machine on wool settings, however we recommend all our knitwear to be aired and steamed as regular care and hand washed only when truly necessary.
As for our italian fine merino a delicate gentle hand wash with special wool detergent and flat drying is the best care for.
For more info please visit our "Care Section".
| | XS (cm/") | S (cm/") | M (cm/") | L (cm/") |
| --- | --- | --- | --- | --- |
| Total Length |  57 / 22.44 |  59 / 23.22 |  62 / 24.40 |  66 / 25.98 |
| Bust |  45 / 17.71 |  48 / 18.89 |   50 / 19.68 |  53 / 20.86 |
| Sleeve length |  21 / 23.62 |  23 / 24.01 |  25 / 24.40 |  27 / 25.19 |
| Shoulders |  37 / 14.56 |  42 / 16.53 |  44 / 17.32 |  48 / 18.89 |