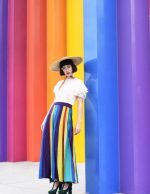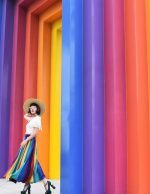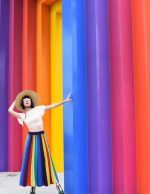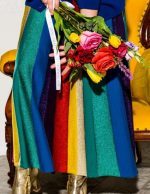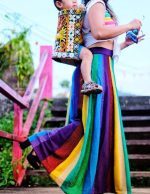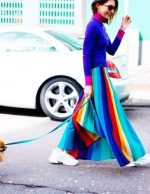 Rainbow Skirt
A luxurious skirt, as comfortable as it is elegant. No concessions, a must have skirt.
Additional information
Welcome, spring! Welcome, rainbows! Welcome happiness! Welcome, freedom of movement, freedom to embrace color!
70% Italian extrafine merino with cashmere feel and 30% viscose based Lurex.
Given the merino content, we recommend hand wash, as for other cashmere knitwear.
Balancing the top and the shoes paired with this skirt will be essential in obtaining a styled look. It can go anywhere from "ugly" sneakers and an oversized t-shirt to a silk blouse and pumps, or a cashmere sweater and bucket boots. More importantly, style it with sun and rainbows in your mind.
| | S ( cm / ") | M (cm / ") | L (cm / ") |
| --- | --- | --- | --- |
| Total Length | 90 / 35.43 | 91/ 35.82 | 94 / 37.00 |
| Waist | 35 / 13.77 | 36 / 14.17 | 37 / 14.56 |
| Waist Band | 5 / 1.96 | 5 / 1.96 | 5 / 1.96 |