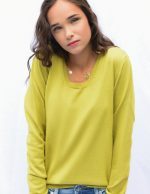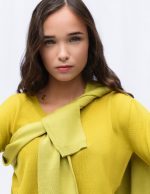 Scoop-neck sweater "Mustard"
An essential sweater from cashmere and merino wool
Additional information
Our Italian Loro Piana cashmere V-neck inaugurated our Essentials collection and we are now proud to introduce our next Essential – the scoop neck sweater. A classic design meets luxurious Italian yarns in rich, jewel colors resulting in a timeless sweater produced ethically and sustainably in Europe.
10% cashmere, 90% Italian extrafine merino
From a key element in an office suit outfit, to a colorful top made for highlighting your necklace jewelry and to contrast your denim choice – this piece is as subtle as you would want it, with the potential of being the center piece in your outfit.
Through both its design – the neckline, the tight sleeves – and the technical wool properties this is also the perfect next-to-skin, first layer to wear under a jacket, a sweater or a coat.
| | XS (cm / ") | S (cm / ") | M (cm / ") | L (cm / ") | XL (cm / ") |
| --- | --- | --- | --- | --- | --- |
| Total Length | 58 / 22.83 | 60 / 23.62 | 63/ 24.80 | 64 / 25.17 | 65 / 25.59 |
| Bust | 44 / 17.32 | 45 / 17.72 | 46 / 18.11 | 49 / 19.29 | 50 / 19.69 |
| Shoulders | 36 / 14.17 | 37 / 14.57 | 38 / 14.96 | 40 / 15.75 | 41 / 16.14 |
| Sleeve Length | 57 / 22.44 | 57 / 22.44 | 60 / 23.62 | 62/ 24.41 | 63 / 24.80 |