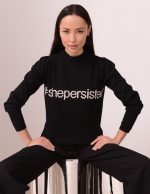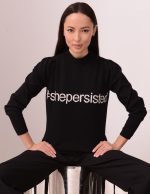 #shepersisted "Black"
Merino Wool sweater in a modern design.
Additional information
We are still as thrilled as ever to have the advantage of owning our production facility and the freedom to offer our customers few alternatives to the same main product.
100 % Premium Italian merino wool yarn spun at an Italian legacy mill
A delicate gentle hand wash with special wool detergent and flat drying is the best care for any merino clothes. For more info visit "Care Section".
There are countless possibilities of wearing a well made, stylish merino jumper. From the casual cool, off duty look paired with jeans and khakis, over a t-shirt or over a shirt, to a 9 to 5 look pairing it with office trousers and pencil skirts, to the evening events paired with skirts, dresses, or tuxedo trousers.
| | XS ( cm / ") | S ( cm / ") | M (cm / ") | L (cm / ") |
| --- | --- | --- | --- | --- |
| Total Length | 57 / 22.44 | 59 / 23.22 | 61 / 24.01 | 63 / 24.80 |
| Bust | 46 / 18.11 | 47 / 18.50 | 49 / 19.29 | 51 / 20.07 |
| Shoulders | 31 / 12.20 | 32 / 12.59 | 34 / 13.38 | 36 / 14.17 |
| Sleeve Length | 59 / 23.22 | 61 / 24.01 | 62.50 / 24.60 | 65 / 25.59 |