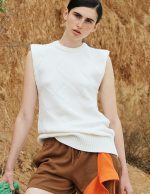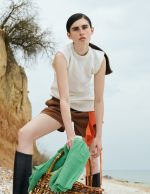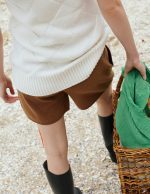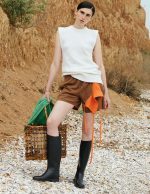 "Square big!" Vest
Square knit vest from Italian merino wool.
*Play with colors, design your own. Contact us at info@amiamalia.com to order.
Additional information
This is a special summer. After months of lockdown, months of reckoning of our global fragility and vulnerability, months of re-appreciating the simple things, like a walk outside and some fresh air – we are preparing for a summer maybe different from what our generation is used to.
We spoke with friends, customers and many of us are vacationing locally, rediscovering the nature oases close to them, from exploring forests, national parks, mountain hikes, rocky beaches, lakes, metropolitan parks, a house in the countryside – this summer we have a date with nature. This summer we dress for a dialogue with the nature around us. To meet her beauty, generosity, power and vulnerability with appreciation and elegance. We will not wait indoors for the days and hours perfect for sun bathing, but will enjoy nature's offerings everywhere we can.
We wear natural yarns. Yarns that don't release microplastics in the oceans during washing, yarns that are biodegradable, yarns that let our skin breathe and do not interfere with our inner balance.
100% Italian extrafine merino from a heritage Italian spinning mill, from Prato. No mulesing, 100% traceable, durable and sustainable yarn. "Probably the best woollen wool in the world."
For care, use our instructions for hand washing from our "Care Guide".
While our campaign is located in an ideal beach setting, all of these items pair well with a city look, especially with suit jackets.
Stay tuned also to see how various stylists incorporated some of these pieces in various editorials.
| | | | | | |
| --- | --- | --- | --- | --- | --- |
|   | XS (cm / ") | S (cm / ") | M (cm / ") | L (cm / ") | |
| Total Length | 64 / 25.19 | 66 / 25.98 | 68 / 26.77 | 70 / 27.55 | |
| Bust | 46 / 18.11 | 48 / 18.89 | 50 / 19.68 | 52 / 20.47 | |
| Shoulders | 38 / 14.96 | 40 / 15.74 | 42 / 16.53 | 44 / 17.32 | |
| | | | | | |
* The model wears a size S.
** Measurements will be adjusted for each order. Please e-mail to mine@amiamalia.com