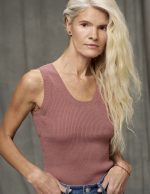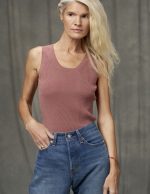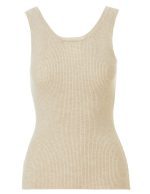 Tank Top, Old Rose
Top tank from finest Italian merino wool.
Additional information
The tank tops are making a comeback as fashion staples, beyond their use as a basic clothing item. They are also in most outfits the first layer on the skin, and if you have followed us for a while you know we are strong advocates of wearing natural yarns on our skin, and not plastic. Not only for the wonderful benefits the natural yarns have, but also because we believe plastic on our skin is damaging our health.
So this is our first tank top, following a classic designed, knitted in a ribbed pattern to offer elasticity to the fit, in addition to the natural elasticity of the Italian fine merino wool.
The warmth offered by this luxury yarn is equaled by the breathability and thermoregulating properties, making it a perfect item to wear in various settings and layering outfits.
Merino wool retains the color intensity very well, and our premium Italian yarn is guaranteed for the highet level of color retaining, ensuring this wardrobe essential will look as new and fresh after countless wears.
We have the tank tops in a large variety of colors, just send us an email to discover the perfect ones for you.
100% Extrafine Merino Wool
A delicate gentle hand wash with special wool detergent and flat drying is the best care for any merino clothes. For more info visit "Care Section".
If you would like to style your AmiAmalia tank top with another items in the same color and texture, get in touch with us, as we have other items from the same yarn – vests, shawls, cardigans, etc.
| | | | | | |
| --- | --- | --- | --- | --- | --- |
|   | XS (cm / ") | S (cm / ") | M (cm / ") | L (cm / ") | XL (cm/") |
| Total Length | 60 / 23.62 | 61 / 24.01 | 62 / 24.40 | 63 / 24.80 | 64 / 25.19 |
| Bust | 27 / 11.41 | 29 / 11.41 | 31 / 12.20 | 33 / 12.99 | 35 / 13.77 |
| | | | | | |
| | | | | | |