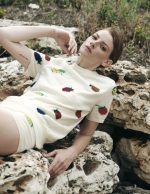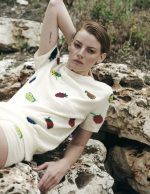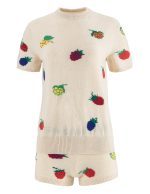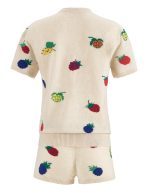 Berry Strawberry Shorts
Knitted shorts with intarsia berries, from 100% extrafine merino wool.
*Check additional colors available here or contact us at info@amiamalia.com.
Additional information
The berries called – the raspberries, the blueberries, the cloudberries, the lingonberries, the blackberries – they should get as much attention as the summer fashion darling – their sister, the strawberry.
On our classic shape t-shirt, shorts and cardigan we have knitted through an intarsia jacquard techniques the fun and vitamin packed berries to create a fun-meets-classic elegance knitted set. Each piece can be purchased separately as well.
This is a fine knit garment, perfect for the warmer seasons as a t-shirt and during the colder days under a jacket or spacious sweater, as a first layer.
The yarn is a key element of a product, and for us the starting point, we design with the yarn characteristics in mind. We select the yarns directly from heritage mills and we collaborate with them to obtain the best yarns for you. All yarns are natural, adhere to the highest standards of certification. The mills we have selected have been working continuously to bring their production and business practices to the highest sustainability and ethics standards. Do not hesitate to contact us to find detailed information about any yarn used in your knitwear.