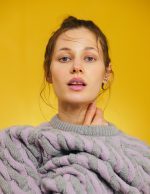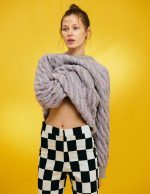 Cable Duo Sweater, Two Colors, Lavander and Grey
Sweater in two colors, knitted from Italian Extrafine Merino Wool.
*Check additional colors available here or contact us at info@amiamalia.com.
Additional information
Cable Duo
It is a romantic pattern, isn't it ? Two lovers, intertwined, embraces to infinite .. Or maybe is more philosophical – opponent forces and energies attracting each other, connecting, trying to pull aside, just to re-unite again. The meaning changes with every new look, and when you add color combinations the message is unique.
What you need to know about our Cable Duo products : they come as a raglan shoulder sweater, and cardigan. You ca use one color for the entire piece, two color, play with the sleeves, and also introduce segments / stripe blocks. Have a look at our proposals on our website, search for Duo , and get inspired.
We use Italian super soft merino in our standard products, and Italian premium cashmere , upon request.
100% Italian extrafine merino from a heritage Italian spinning mill, from Prato. No mulesing, 100% traceable, durable and sustainable yarn. "Probably the best woollen wool in the world."
For care, use our instructions for hand washing from our "Care Guide".
This table is intended as an exemplification of standardized sizes for this product, we can adjust various sizing parameters based on your request, within technological limitations.
| | XS (cm) | S (cm) | M (cm) | L (cm) |
| --- | --- | --- | --- | --- |
| Total Length |  65 cm |  67 cm |  69 cm |  71 cm |
| Bust | 42 cm |  44 cm |   46 cm |  48 cm |
| Sleeve length |  69 cm |  69 cm |  71 cm |  74 cm |