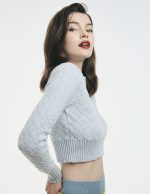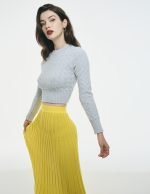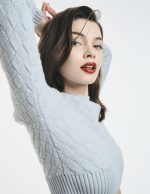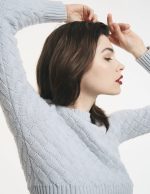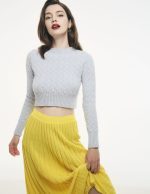 Clouded Squares Crop-Top Sweater
Knitted crop-top sweater from extrafine merino wool.
Check additional colors available here and indicate the preferred color code in the Order Notes at checkout.
NOT AVAILABLE NOW
Additional information
Since 2019 our Clouded Squares pattern continues to be appreciated by our customers and from the initial sweater version – oversized, chunky, woolly- it diversified into several classic sweaters designs , from softer yarn and fine to medium knitwear thickness.
We are adding to the Clouded Squares family a zipped collar sweater, a fitted crew neck sweater, a t-shirt sweater, a crop top sweater , a jacket with zipper and two options for collar, and a buttoned vest.
They are showcased knitted from premium Italian merino, and can be knitted from other premium yarns, upon request (cashmere, alpaca, yak, vicuña ).
Colors can be customised.
100% Italian extrafine merino from a heritage Italian spinning mill, from Prato. No mulesing, 100% traceable, durable and sustainable yarn. "Probably the best woollen wool in the world."
For care, use our instructions for hand washing from our "Care Guide".
While our campaign is located in an ideal beach setting, all of these items pair well with a city look, especially with suit jackets.
Stay tuned also to see how various stylists incorporated some of these pieces in various editorials.
* Measurements will be adjusted for each order.