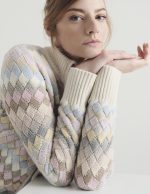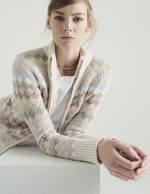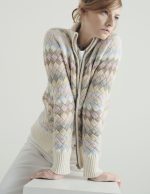 "Clouded Squares" meets 13 colors – Bomber Jacket
New technique for the 13 colors of our Clouded Squares pattern.
Check additional colors available here and indicate the preferred color code in the Order Notes at checkout.
Additional information
Clouded Squares, by AmiAmalia.
Since 2019 the Clouded Squares pattern, in this size , haș been knitted only on one color, or mélanges.
We know our customers live colors and to design, so we are introducing our – "Clouded Squares" meets 13 colors ' variation ❤️. Imagine the possibilities , the joyful pieces we can create together, a visual delight to be enjoyed by everyone around you.
We can use this technique for any Clouded Squares item from Italian merino or cashmere, as the other yarns do not have such a variety of colors in stock to allow the creative play these pieces invite to.
100% Italian extrafine merino from a heritage Italian spinning mill, from Prato. No mulesing, 100% traceable, durable and sustainable yarn. "Probably the best woollen wool in the world."
For care, use our instructions for hand washing from our "Care Guide".
This is the perfect piece to high light your styling essence. It can add a contemporary feel to a vintage icon, highlight a new accessory statement , but above all infuse understated elegance ♥️