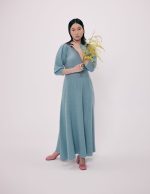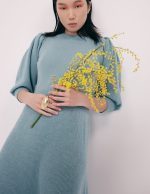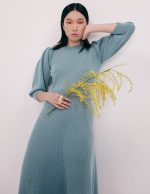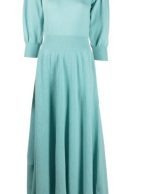 Iulia Dress, Spring Sky
Peplum dress from Italian merino wool.
*Check additional colors available here or contact us at info@amiamalia.com.
Additional information
Why peplum : because we should all have this style in our wardrobe, and one knitted from a luxury yarn is more comfortable and sensual than a tailored one.
Why the sleeves: we love to highlight through powerful/statement elements a woman's arms, they are for us a metaphor of strength and love. We did this through our Mother Goddess statements , through the folds on our cashmere cuddles, the volume on our Art Dye project.For this design we chose the contrast of rhombs and spiraling lines for a power woman esthetic statement.
Why a top and a dress : because they are so different! 🙂 We just couldn't choose between the versatility of the top and the wow effect, the magical fluidity of the dress. Both must be experienced ❤️
Iulia Dress is knitted in one ply of a superfine, Italian merino. For comparison, it feels closer to a regular cashmere sweater than to the extrafine Italian merino used in our Jaquard type knits.
100% Italian superfine merino wool
Skinny jeans, leather trousers, formal trousers, palazzo trousers, ruffled trousers – yes, the most relevant piece for styling this beautiful top is the trousers you choose to pair it with
| | S ( cm / ") | M (cm / ") | L (cm / ") |
| --- | --- | --- | --- |
| Total Length | 127 / 50.00 | 128/ 50.39 | 129 / 50.78 |
| Bust | 42 / 16.53 | 44 / 17.32 | 45 / 17.71 |
| Shoulders | 29 / 11.41 | 30 / 11.81 | 32 / 12.59 |
| Sleeve Length | 63 / 24.80 | 64 / 25.19 | 65 / 25.59 |