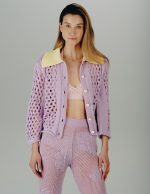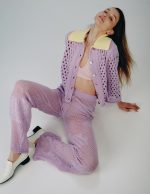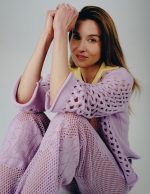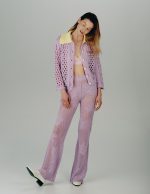 Knitted DNA Buttoned Jacket, Lavander with Yellow
Knitted jacket in a pattern resembling a molecular formula.
Check additional colors available here and indicate the preferred color code in the Order Notes at checkout.
Additional information
Buttoned jacket knitted in an airy, geometrical structure resembling a molecular formula. Knitted from organic Patagonian wool produced with anti-shrinkage treatment.
You can choose color, sizing, buttons.
The organic Patagonian wool of 21 microns, spun in France, is environmentally friendly, treated against shrinkage. It is produced as motes resistant, meaning it can be washed in the washing machine on wool settings, however we recommend all our knitwear to be aired and steamed as regular care and hand washed only when truly necessary.
For more info please visit our "Care Section".
| | XS (cm/") | S (cm/") | M (cm/") | L (cm/") |
| --- | --- | --- | --- | --- |
| Total Length |  54 / 21.25 |  56 / 22.04 |  58 / 22.83 |  60 / 23.62 |
| Bust |  46 / 18.11 |  48 / 18.89 |  50 / 19.68 |  52 / 20.47 |
| Sleeve length |  53 / 20.86 |  55 / 21.65 |  57 / 22.44 |  59 / 23.22 |
| Shoulders |  36 / 14.17 |  38 / 14.96 |  40 / 15.74 |  42 / 16.53 |