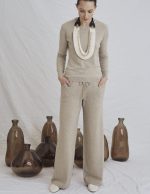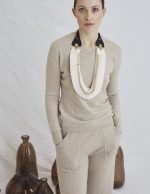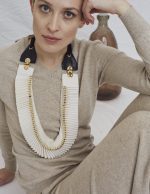 Loungewear Suit, Latte
Loungewear sweater and trousers set from Italian Extrafine Merino.
*Additional colours available, contact us at info@amiamalia.com
In stock
Additional information
At a certain point in anyone`s life the luxury of dressing for themselves brings unequaled comfort, freedom and elegance. This loungewear set, perfect for travel, home office, week-end city walks or out of town escapes is, for us, the epitome of inward luxury, of self-love when it comes to fashion knitwear.
The items can be ordered separately as well, and for maximum satisfaction we recommend to discuss with us the perfect sizing and have this set AmiAmalia "knit to fit".
As separates (from merino wool), 188€ plus VAT for trousers, 170€ plus VAT for the sweater.
Available from cashmere upon request, at following pricing:
Loungewear set from premium cashmere, 395€ plus VAT.
As separates: 225€ plus VAT for the trousers, 195€ plus VAT for the sweater.
A large variety of colors are available for this set, feel free to send us your desired color at mine@amiamalia.com.
100% Italian extrafine merino from a heritage Italian spinning mill, from Prato. No mulesing, 100% traceable, durable and sustainable yarn. "Probably the best woollen wool in the world."
For care, use our instructions for hand washing from our "Care Guide".
As a set, for styling these two pieces the most important item is your attitude, your state of mind, and the settings in which you choose to wear them.
Is a lifestyle fashion item.