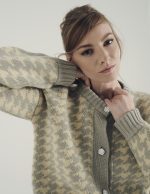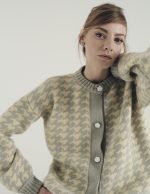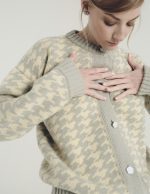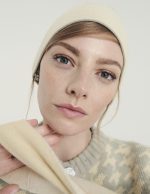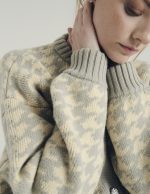 Pastel Houndstooth Jacket
Houndstooth jacket from extrafine merino wool.
Additional information
Houndstooth jacket
How can you take on a giant, classic titan pattern, if not by trying to add a touch of contemporaneity and to, also, illustrate your values ?
Of course, it has to start with the yarns.
We celebrated the contrast that made this pattern famous with a contrast in yarn texture, and a study of how different processing techniques bring opposite traits out of, basically, the same type of yarn.
We continued in this contrast study with choosing two designs and two clothing items with opposite functionality, a short sleeve, fitted top and an oversized sweater / jacket.
The yarn used in both is a merino wool.
For the top, a very, very fine one – the finer the wool, the higher the properties and the value – processed with a new technology to enhance its elasticity, without using plastic. 100% extra fine Italian merino, with natural elastic properties. What it gained in technical properties it lost in softness, so for our customers used to our very soft merino, please note, not all mernino are the same :).
For the sweater and the jacket – we used New Zealand, cruelty free (mulesing free) , extra fine merino, very soft, and knitted it in several plies, in a jacquard technique, multiplying its softness and marshmallow, cloudy effect.
100 % New Zealand, cruelty free (mulesing free), extra fine merino wool
A delicate gentle hand wash with special wool detergent and flat drying is the best care for any merino clothes. For more info visit "Care Section".
| | | | |
| --- | --- | --- | --- |
| | S (cm / ") | S (cm / ") | L (cm / ") |
| Total length | 66/25.98 | 70/27.56 | 72/28.34 |
| Bust | 60/23.62 | 62/24.41 | 64/25.19 |
| Shoulders | 64/25.2 |  64/25.2 | 66/25.98 |
| Sleeve length | 46/18.11 | 50/19.69 | 52/20.47 |