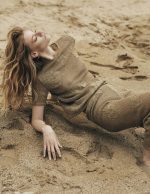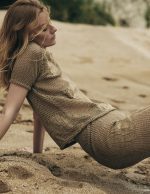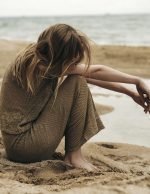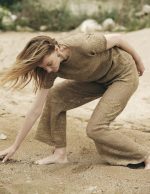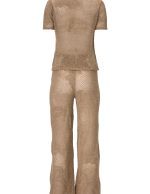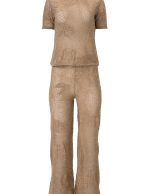 Peony Knitted Lace, T-shirt
Knitted lace with peony pattern, from 100% extrafine merino wool.
*Additional colors available, contact us at info@amiamalia.com
Additional information
Knitwear is becoming a summer staple for environmental conscious and fashion forward customers. We are using the latest technology to bring airy, fluid and stylish structures to classic items that are the perfect companion for the warm season. Using a mesh-crochet like base structure we have applied motifs dear to us, like blooming peonies, seashells, to create a garment that meets both the comfort and style needs of our customers. We are using as base premium natural yarns, fine merino or cotton, based on customer's choice, and we can also add upon request a thin detail of glitter (gold, silver, multicolored, etc) for a discreet touch of glamour, easily balanced with a minimalist accessory.
For figure hugging items we can also add a very thin yarn to add elasticity, as seen in the Peony Lace Dress.
We can customize sizes – especially trousers length – based on your measurements.
The yarn is a key element of a product, and for us the starting point, we design with the yarn characteristics in mind. We select the yarns directly from heritage mills and we collaborate with them to obtain the best yarns for you. All yarns are natural, adhere to the highest standards of certification. The mills we have selected have been working continuously to bring their production and business practices to the highest sustainability and ethics standards. Do not hesitate to contact us to find detailed information about any yarn used in your knitwear.
Based on your choice, it can be made from italian fine merino, cashmere or organic Patagonian wool of 21 microns, spun in France.
The organic Patagonian wool is environmentally friendly, treated against shrinkage. It is produced as motes resistant, meaning it can be washed in the washing machine on wool settings, however we recommend all our knitwear to be aired and steamed as regular care and hand washed only when truly necessary.
As for our italian fine merino a delicate gentle hand wash with special wool detergent and flat drying is the best care for.
For more info please visit our "Care Section".
These are items with elasticity, so the cm measured when the product is laying flat will change on, and with your body. The traditional XS, S, M, L sizing will work in most of the cases. To ensure you choose the ideal size we recommend you contact us or send your measurements to find the best fir for you. Custom sizing is also possible, most of our orders are made to customer's measurements. We can provide assistance on how to get the measurements required.