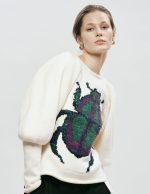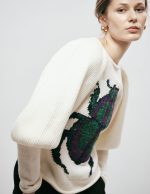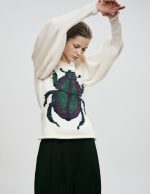 Scarab Sweater, oversized volume sleeves, White
Sweater with intarsia lobster image and sleeves with oversized volume sleeves
*Check additional colors available here or contact us at info@amiamalia.com.
Additional information
The iridescence of the scarab wings is one of my favourite color combinations, and we have tried to recreate it with the help of yarn melange techniques, including extrafine glitter.
I feel a wardrobe piece with a scarab brings power, mystery and more thought even into the simplest looks of jeans-and-sweater.
100% Italian extrafine merino from a heritage Italian spinning mill, from Prato. No mulesing, 100% traceable, durable and sustainable yarn. "Probably the best woollen wool in the world."
For care, use our instructions for hand washing from our "Care Guide".
| | XS (cm) | S (cm) | M (cm) | L (cm) |
| --- | --- | --- | --- | --- |
| Total Length |  56 cm |  58 cm |  60 cm |  62 cm |
| Bust | 42 cm |  44 cm |   46 cm |  48 cm |
| Sleeve length |  68 cm |  68 cm |  68 cm |  68 cm |
| Shoulders |  29 cm |  31 cm |  33 cm |  35 cm |