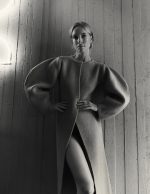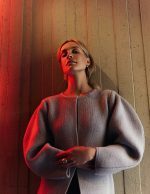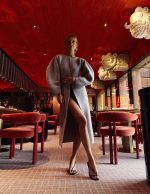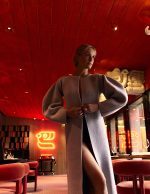 "Sculpture" Coat
A statement coat with sculptural sleeves.
*Check additional colors available here or contact us at info@amiamalia.com.
Additional information
The statement of the previously released Sculpture jacket takes the shape of an editorial coat, with its length accentuating the effect of the sculptural sleeves. This is only a Buy Bespoke product, as the fit is determined by personalized measurements.
It is available also in a dual colour design.
Hand wash in lukewarm water with proper, mild detergent for natural fibres – please read about "CARE GUIDE" instructions here, or contact us for more information.
For customized sizing, please discover our BUY BESPOKE section.
Weight:
1530 – 1650 grams of premium Italian fine merino, depending on the size.
Thickness:
We categorize this as a Level 4 thickness on our 1 to 8 scale, but combined with the density of the jacquard structure this item is a true coat. The length of it adds to its weight and overall feel of a firm hug.