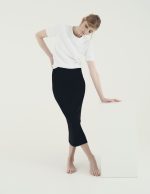 Spring Skirt, Black
Ribbed skirt from Italian extrafine merino. A thinner version of our Autumn ribbed skirt.
*Check additional colors available here or contact us at info@amiamalia.com.
Additional information
When in doubt, ribb knit!
Ribbed knit – the knitting pattern with raised lines – is a knitwear's best friend, and just as much for the customers . The visual play of the lines, the minimalist look while offering elasticity, form hugging properties, comfort and elegance in the same time with structure – all make sure is used throughout the seasons. For this autumn and this skirt we have used more threads of our favourite  Italian wool for added structure and to ensure this is a skirt to wear throughout autumn and winter, especially paired with our leggins.
100% Italian extrafine merino from a heritage Italian spinning mill, from Prato. No mulesing, 100% traceable, durable and sustainable yarn. "Probably the best woollen wool in the world."
For care, use our instructions for hand washing from our "Care Guide".
A versatile item which shouldn't be missing from your wardrobe as the cold season approaches. It is a flattering skirt which can be worn with an oversized sweater and sneakers for a casual outfit or with high heels or boots for a more elegant approach.
It can also be worn as a co-ord set with our Scandinavian Turtleneck, styled with a shirt underneath. A monochrome look is always a good idea.