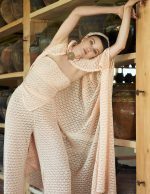 Summer Crochet Scarf, Cotton
Knitted scarf in a crochet technique from Italian mercerized cotton.
*Check additional colors available here or contact us at info@amiamalia.com
Additional information
With summer in mind – lace, knitted lace
Light, airy, artfully sensual and luxuriously comfortable – we have prepared our knitted lace for you in several patterns, made from French and Italian cotton as well as our beloved Italian extrafine merino.
To maximize comfort we are tailoring the lace items, allowing us to present you with long and short capes, trousers in various lengths, shirts, dresses, accessories.
For cotton we have a limited amount of colors at the moment, but our entire palette of Italian extrafine merino is available for the knitted lace items.
100% premium cotton.
While cotton is a bit more resistant to higher water temperatures and washing than wool, it can also be washed at temperatures of 30oC – 40oC and in shorter washing cycles, or even by hand. This reduces energy consumption and ensures the clothes retain their as-new look.
Machine or hand wash with mild detergent for natural fibers – please read about "COTTON CARE" instructions here, or contact us for more information.