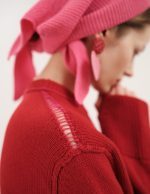 "Threads" Sweater, Red and Hot Pink
Sweater with hand-sewn shoulder details, knitted from Italian Extrafine Merino Wool.
*Check additional colors available here or contact us at info@amiamalia.com.
Additional information
On my list of items that I love to revisit regularly there has always been a basic black cashmere sweater.
The sides are linked with contrasting yarn as well, and inside out. It is one of my favourite basic sweaters and I know it will become a favourite for many of you as well. It is available in a looser, thicker version, as pictured here, but also in a thinner, fitter version. It can be knitted from premium Italian cashmere, as well as Italian extrafine merino. Maybe this is the sweater that we will accept special orders for as our first 100% vicuna wool, will see what you think about it as well.
100% Italian extrafine merino from a heritage Italian spinning mill, from Prato. No mulesing, 100% traceable, durable and sustainable yarn. "Probably the best woollen wool in the world."
For care, use our instructions for hand washing from our "Care Guide".
| | XS (cm) | S (cm) | M (cm) | L (cm) |
| --- | --- | --- | --- | --- |
| Total Length |  64 cm |  66 cm |  68 cm |  70 cm |
| Bust | 53 cm |  55 cm |   57 cm |  59 cm |
| Sleeve length |  60 cm |  62 cm |  62 cm |  64 cm |
| Shoulders |  41 cm |  43 cm |  45 cm |  47 cm |