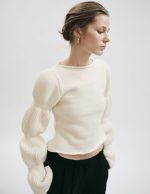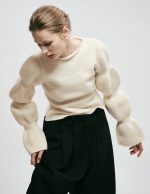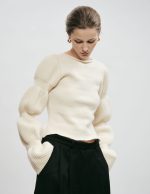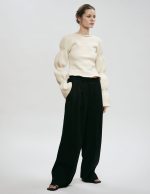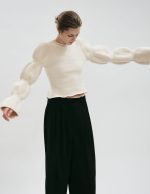 Amalia Sweater, Optic White – SALE
Knitted Sweater with Spectacular sleeves from 100% Organic Wool.
Out of stock
Additional information
Amalia Sweater
Spectacular sleeves on a delicate body, a sweater of harmonious contrasts.
It happened. Wasn't planned, but the narrow shoulders, the delicate neckline, the spectacular sleeves inviting the arms to free their movements, to capture our attention, the honest elegance of the organic wool , the raw finish of the sweater base in contrast with the elaborated sleeve construction – so many of my favourit aspects in one piece – it is a very Amalia sweater.
It can be knitted from wool or softer merino – your preference.
100% Organic Andean wool. Undyed and mulesing free.
A delicate gentle hand wash with special wool detergent and flat drying is the best care for any wool clothes. For more info visit "Care Section".
Measurements for this item:
Total length: 54 cm
Bust: 41 cm
Shoulders: 31 cm
Sleeve length: 60 cm