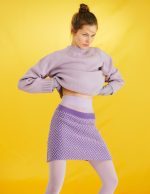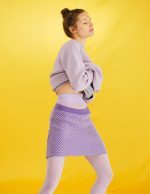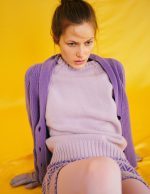 Classic Raglan Sweater, Lavander
Sweater knitted from Italian Extrafine Merino Wool.
*Check additional colors available here or contact us at info@amiamalia.com.
Additional information
  Classic Raglan Sweater, Medium Weight
The raglan shoulder line is one of my favourites for a plain stitch sweater, and my number one recommendation for a thicker one, and here is
why: while in some IG pics sweaters with sloppy shoulder lines might look interesting, if you don't get just the right oversized look, a sloppy shoulder line is just what it is – a sign of a poorly fitted sweater. If you are one of those people who have an eye for tailoring you might find, like myself, the raglan shoulder more appealing,  more forgiving, more versatile , more put together, but still in a sweater classic laid back style.
Traditionally the classic raglan sweater is knitted from one ply , on fine knitting machines, and we have that as well . This version is a thicker one, warmer, with more structure, combining 4 plys of regular yarn.
100% Italian extrafine merino from a heritage Italian spinning mill, from Prato. No mulesing, 100% traceable, durable and sustainable yarn. "Probably the best woollen wool in the world."
For care, use our instructions for hand washing from our "Care Guide".
| | XS (cm) | S (cm) | M (cm) | L (cm) |
| --- | --- | --- | --- | --- |
| Total Length |  64 cm |  66 cm |  68 cm |  70 cm |
| Bust | 48 cm |  50 cm |   52 cm |  54 cm |
| Sleeve length |  69 cm |  69 cm |  71 cm |  71 cm |
| Shoulders |  48 cm |  50 cm |  52 cm |  54 cm |