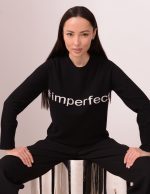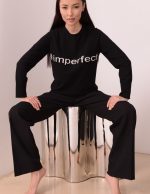 #imperfect "Black"
Imperfect, I'm perfect. I'm perfect, imperfect.
Additional information
Words are all around us, in front of our eyes most of time, on our work computers, working files, mobile phones, advertising billboards, books of course, magazines, and have transitioned to the fashion industry more than ever. Brandmania, logomania, pop words, statements , exacerbated by the need for an item to be instagrammable and to pack a maximum marketing impact at a quick scroll, a quick glance. "A picture says a thousand words" goes the saying, but now, make that a thousand and few more. And of course, is the technology, and the knitting knowledge that allows us now easier than ever to put in knitwear our statements.
Why #imperfect?
After our #shepersisted sweater #imperfect is for me the realization that once we renounce our quest for perfection, once we embrace our "imperfections" as the features and traits that make us perfect, we are perfect.
100 % Premium Italian merino wool yarn spun at an Italian legacy mill
A delicate gentle hand wash with special wool detergent and flat drying is the best care for any merino clothes. For more info visit "Care Section".
#imperfect comes in a more casual look, making the contrast with a polished office or "out on town" outfit very stylish.
| | XS ( cm / ") | S ( cm / ") | M (cm / ") | L (cm / ") |
| --- | --- | --- | --- | --- |
| Total Length | 64 / 25.19 | 66 / 25.98 | 68 / 26.77 | 70 27.55 |
| Bust | 50 / 19.68 | 52 / 20.47 | 54 / 21.25 | 56 / 22.04 |
| Shoulders | 37 / 14.56 | 39 / 15.35 | 41 / 16.14 | 43 / 16.92 |
| Sleeve Length | 61 / 24.01 | 63 / 24.80 | 65 / 25.59 | 67 / 26.37 |