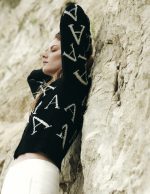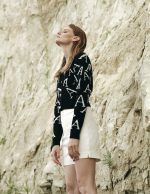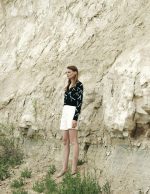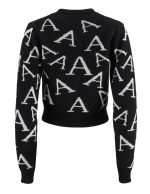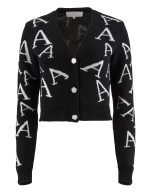 'My Letters' Cardigan, Black and White
Jaquard cardigan (sweater) with your choice of letters knitted from extrafine merino.
*Check additional colors available here or contact us at info@amiamalia.com.
Additional information
As consumers, without access to manufacturing facilities we have been trained to embrace other brands and celebrities symbols and letters and incorporate them into our outfits, become a display eendorsing their success or street value. We are taking that barrier down, allowing our customers direct access to a brand new knitting factory to create the ultimate luxury – custom made items, not only through the custom sizing and color options, but through the opportunity to create their personalized knitwear – be that with one power letter, their zodiac sign, hashtag, and in this case, through a jaquard of their favourite letter.
It comes a as  cardigan, or sweater, in a contemporary interpretation of the classic waist length piece, perfect for mid to high waist jeans, trousers or skirt, and perfect over slip dresses. Recommeded total look – pair it with our knitted shorts.
We are using a classic letter style, if you are not sure how your letter would look in this design ask us for a software rendition or a picture of other custom pieces we have made.
You can choose any two colors for your luxuriously personalized knitwear piece.
Upon request, this item can be knitted fron cashmere as well.
100% Italian extrafine merino from a heritage Italian spinning mill, from Prato. No mulesing, 100% traceable, durable and sustainable yarn. "Probably the best woollen wool in the world."
For care, use our instructions for hand washing from our "Care Guide".
| | XS (cm) | S (cm) | M (cm) | L (cm) |
| --- | --- | --- | --- | --- |
| Total Length |  46 cm |  48 cm |  50 cm |  52 cm |
| Bust | 42 cm |  44 cm |   46 cm |  48 cm |
| Sleeve length |  63 cm |  63 cm |  65 cm |  65 cm |
| Shoulders |  34 cm |  36 cm |  38 cm |  40 cm |