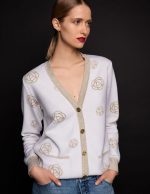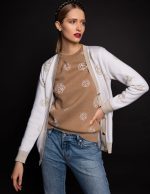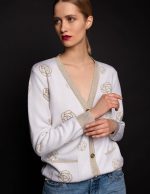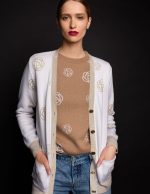 Peonies in Bloom Cardigan, White and Gold
V neck cardigan from Italian merino, with peonies pattern.
N.B. This item is not in stock, but can be produced based on your confirmed order within ten (10) days. For more information contact us at info@amiamalia.com.
Additional information
We love the instant fashion look this cardigan brings to any outfit, and for this piece we have added a bouquet of blooming peonies in our contemporary, urban design of this beloved flower. We have used a jacquard knit that gives the super soft Italian merino yarn a beautiful structure, making a versatile piece, suitable for streetwear as well as for an a casual and business look.
95% Italian extrafine merino, 5% lurex.
The V-neck of this cardigan invites your favourite jewelry to be showcased, be that a selection of necklaces, or statement earrings.
Given the subtle Lurex detail it can be worn also with little, or no jewelry at all.
Pairs great with jeans, but also with an evening dress.
| | XS (cm / ") | S (cm / ") | M (cm / ") | L (cm / ") | XL (cm/") |
| --- | --- | --- | --- | --- | --- |
| Total Length |  66 / 25.98 |  68 / 26.77 | 70 / 27.55 | 70 / 27.55 | 70 / 27.55 |
| Bust | 46 / 18.11 | 48 / 18.89 | 50 / 19.68 | 52 / 20.47 | 54 / 21.25 |
| Sleeve Length | 57 / 22.44 | 58 / 22.83 | 59 / 23.22 | 60 / 23.62 | 60/ 23.62 |
| Shoulders | 36 / 14.17 | 37 / 14.56 | 38 / 14.96 | 39 / 15.35 | 40 / 15.74 |