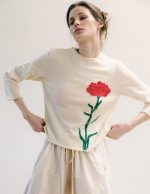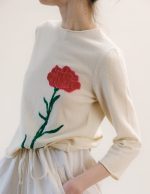 Red Carnations for A. Sweater, White
Carnations sweater from Italian extrafine merino.
*Check additional colors available here or contact us at info@amiamalia.com.
Additional information
Carnations are specials, and people who appreciate them even more.
Homage to A. and her love for flowers that bring together character verticality , personality and passionate red.
100% Italian extrafine merino
Our vision is that knitwear belongs and shines in all type of outfits, from a casual morning outfit to run to your favorite coffee shop around the corner, to that evening event you have been just the perfect skirt or tuxedo trousers to complete the look – make knitwear your style statement, comfortable, sustainable, stylish.
| | | | | | |
| --- | --- | --- | --- | --- | --- |
|   | XS (cm / ") | S (cm / ") | M (cm / ") | L (cm / ") | XL (cm/") |
| Total Length | 57 / 22.44 | 60 / 23.62 | 61 / 24.01 | 64 / 25.19 | 67 / 26.37 |
| Bust | 42 / 16.53 | 44 / 17.32 | 46 / 18.11 | 48 / 18.89 | 50 / 19.68 |
| Sleeve Length | 57 / 22.44 | 59 / 23.22 | 60 / 23.62 | 61 / 24.01 | 63 / 24.80 |
| Shoulders | 36 / 14.17 | 37 / 14.56 | 39 / 15.35 | 40 / 15.74 | 42 / 16.53 |