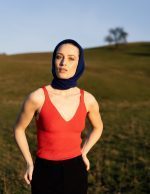 Tank-bra, Red
Top-bra from finest Italian merino wool.
*Check additional colors available here or contact us at info@amiamalia.com.
Additional information
The tank tops are making a comeback as fashion staples, beyond their use as a basic clothing item. They are also in most outfits the first layer on the skin, and if you have followed us for a while you know we are strong advocates of wearing natural yarns on our skin, and not plastic. Not only for the wonderful benefits the natural yarns have, but also because we believe plastic on our skin is damaging our health.
This is our second version of the tank top, incorporating an elasticated under-breast for additional support. The warmth offered by this luxury yarn is equaled by the breathability and thermoregulating properties, making it a perfect item to wear in various settings and layering outfits. Merino wool retains the color intensity very well, and our premium Italian yarn is guaranteed for the height level of color retaining, ensuring this wardrobe essential will look as new and fresh after countless wears.
We have the tank-bras in a large variety of colors, just send us an email to discover the perfect ones for you.
100% Italian extrafine merino from a heritage Italian spinning mill, from Prato. No mulesing, 100% traceable, durable and sustainable yarn. "Probably the best woollen wool in the world."
For care, use our instructions for hand washing from our "Care Guide".
| | | | | | |
| --- | --- | --- | --- | --- | --- |
|   | XS (cm / ") | S (cm / ") | M (cm / ") | L (cm / ") | XL (cm/") |
| Total Length | 60 / 23.62 | 61 / 24.01 | 62 / 24.40 | 63 / 24.80 | 64 / 25.19 |
| Bust | 27 / 11.41 | 29 / 11.41 | 31 / 12.20 | 33 / 12.99 | 35 / 13.77 |
| | | | | | |
| | | | | | |