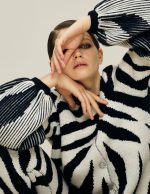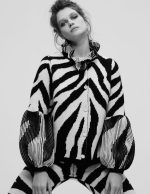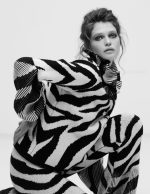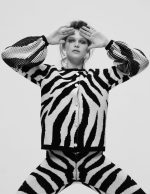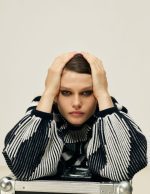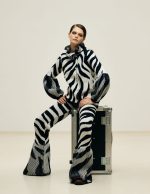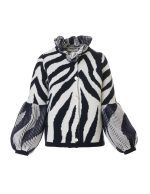 Zebra Knitted Jacket
Zebra pattern knitted jacket from Italian Extrafine Merino
Available with two different necklines and custom made peony buttons, available in more colours.
*Additional colours available, contact us at info@amiamalia.com
Additional information
An oversized, statement zebra pattern from Premium yarn in a modern jacket shape. For the sleeves we used a knitting technique that voluminously expands the pattern.
This statement jacket is available with two different necklines, a simple line, or a voluminous one knitted with the same technique as the sleeves.
The matching trousers create a one of a kind "WOW" look.
100% Italian extrafine merino from a heritage Italian spinning mill, from Prato. No mulesing, 100% traceable, durable and sustainable yarn. "Probably the best woollen wool in the world."
For care, use our instructions for hand washing from our "Care Guide".
Understated daytime elegance while styling the Zebra Jacket with a white T-shirt, a pair of blue jeans and loafers or ballerinas. From here, to the perfect piece worn over the (evening, long) black dress, the styling options are countless.
For a one of a kind, WOW look, pair it with our matching Zebra Print Trousers.
| | XS (cm / ") | S (cm / ") | M (cm / ") | L (cm / ") | XL (cm/") |
| --- | --- | --- | --- | --- | --- |
| Total Length |  58 / 22.83 |  60/ 23.62 |  62 / 24.40 |  64 / 25.19 |  66 / 25.98 |
| Bust |  48 / 18.89 |  50 / 19.68 |  52 / 20.47 |  54 / 21.25 |  56 / 22.04 |
| Sleeve Length |  61 / 24.01 |  63 / 24.80 |  65 / 25.59 |  67 / 26.37 |  69 / 27.16 |
| Shoulders |  31 / 12.20 |  33 / 12.99 |  35 / 13.77 |  37 / 14.56 |  39 / 15.35 |