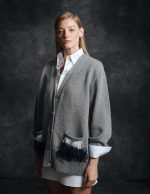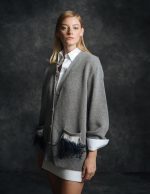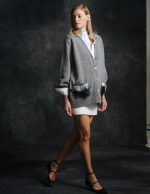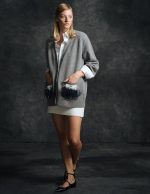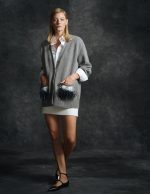 Classic Cardigan No 05, with Feather Pockets
A Classic Cardigan knitted from Italian extrafine merino wool, with pockets feathers details.
*Check additional colors available here or contact us at info@amiamalia.com.
Additional information
Minimalistic, simple, modest at first look – but so powerful when worn by the right person, and such an ally in any wardrobe.
From merino or cashmere – classic elegance.
Why feathers ?
Few years before starting Ami Amalia I had the privilege to meet in Firenze the most impressive "piume" artist, visit their 3rd generation atelier and learn about why, and how they do the couture masterpieces they are recognized for in the inner world of high fashion. They salvage the by-product feathers from bird farms, bring them to their atelier and choose the ones that can be used, clean them sanitize them, custom colour them for their projects, and do all the creative work in their atelier. They are the long time partner for the most prestigious couture projects, true artisans. On my last visit there I chose and brought back a limited quantity of feathers to use for myself, special projects and share with our customers.
*We choose the feather colors based on the sweater chosen colour and the available feathers.
Hand wash in lukewarm water with proper, mild detergent for natural fibres – please read about "CARE GUIDE" instructions here, or contact us for more information.
For customized sizing, please discover our BUY BESPOKE section. Below are the parameters for our regular sizes for this product. As we work with natural yarns, and many colours, differences in sizing may occur.
Whilst the programming and the knitting are controlled by mathematics and technology, the washing, drying, linking, steaming and measuring phase of our products are done manually, by our employees. Our products are measured on our steaming table, on an angled , flat surface. Even in this setting the industry allows for a plus/ minus 2cm difference for sizing parameter. We present this information to raise more awareness about what is normal for quality knitwear from natural yarns, that have no plastic, and no chemical treatment that removes their natural elasticity and particularities.
| | XS (cm) | S (cm) | M (cm) | L (cm) |
| --- | --- | --- | --- | --- |
| Total Length |  56 cm |  58 cm |  60 cm |  62 cm |
| Bust | 48 cm |  50 cm |   52 cm |  54 cm |
| Sleeve length |  62 cm |  62 cm |  64 cm |  66 cm |
| Shoulders |  34 cm |  36 cm |  38 cm |  40 cm |
Weight:
600 – 800 grams of premium Italian fine merino, depending on the size.
Thickness:
This is a medium knit, with Level 4 thickness on our 1 to 8 scale. It feels like the daily "have a nice day" hug from a family member, honest, authentic, reliable, comfortable.